A juvenile drawing by the talented symbolist Carel de Nerée tot Babberich
A remarkable Dutch symbolist drawing that is quite unknown.
This drawing is one of the earliest by the self-taught artist Carel de Nerée tot Babberich (18 March 1880 – 19 October 1909), who died at an early age. His first work dates from 1898. On the basis of technique and style this drawing can be dated as originating from the years 1899-1900. The signature on the lower left is not De Nerée's though, who rarely signed his work.
The drawing isn't quite as subtle as those which he would make in 1900-01 and which he based on Couperus' novel Extaze. It is however a remarkable Dutch symbolist drawing and is quite unknown: it has never been exhibited. Remarkable as well is its main influence: that of that other loner of Dutch symbolism, Johan Thorn Prikker. In his whimsical lines De Nerée was most probably influenced by Thorn Prikker's drawing Moine Epique (1893, Centraal Museum). He could have seen that work at an exhibition or have studied it at his home, as a large reproduction was published in 1899 in A.A. Plasschaerts art periodical De Tuin.
It is not known whether the title of the work stems from De Nerée himself but the female figure with a dagger in her heart certainly shows Thesbe, as described in Ovid's Metamorphoses, book IV, 1-112. The idiosyncratic De Nerée has given a playful twist to his depiction of the mythological figure by adding several faces. The one on the lower right of her dress is probably a self-portrait. Thorn Prikker's influence would soon be replaced by that of Toorop and Beardsley. In their footsteps, but with a very personal twist, De Nerée would soon create his own unique oeuvre.
Post by Sander Bink, one of the authors for the weblog rond1900.nl and guest curator of the exhibition 'Witte nachten. Carel de Nerée tot Babberich, Henri van Booven en Louis Couperus' in the Louis Couperus Museum (9 November 2014-10 May 2015).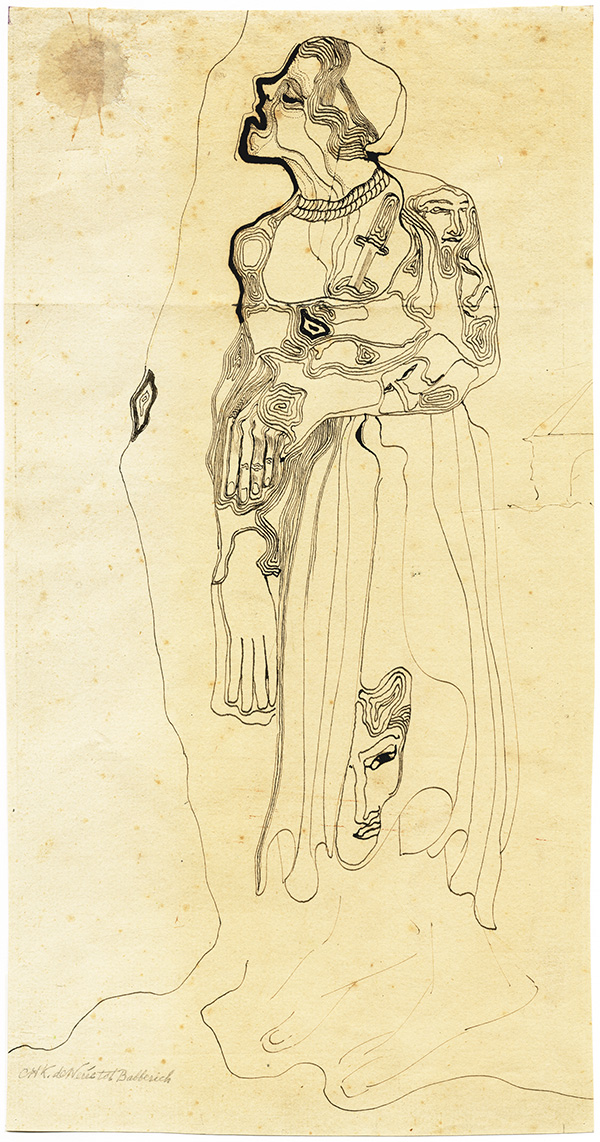 Image licensed