A Temporarily Lost Persian Epic
Lost and found: a rare illustrated edition of the Persian Book of Kings surfaced again, thanks to a trainee in the conservation department.
The Shahnameh or Book of Kings by Abul-Qasim Firdawsi (d. 1020 CE) is the national epic of Iran. It relates the heroic exploits of the Persian kings and their warriors, mostly against the Turks. The last king of the epic is Yazdagird III, who in 636 CE lost his empire to the invading Muslim armies. Because of its pre-Islamic character the epic is especially popular among secular Iranians.
One of the key figures is Rustam, a hero of Herculean proportions. In this scene he is surprised in his sleep by the demon Akvan, who hurls him into the sea – turf and all – with the purpose of drowning him. In vain, of course, for Rustam swims back to the shore and eventually kills the demon.
This rare lithographed edition was published in Tabriz, Iran, in the year 1275 of the Islamic calendar (1858-59 CE). The Leiden copy of the book (kept under shelfmark UBL 894 A 9) was 'lost' for several decades because it had inadvertently been omitted from the online catalogue. In 2013 it was rediscovered by Hélène Merlet-Oumanni, a trainee in the conservation department of the University Library, who was working on the historical bindings of Middle Eastern printed books.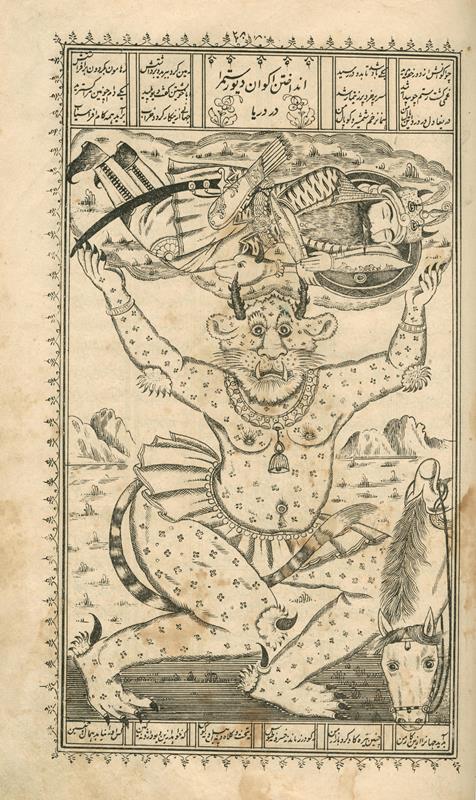 Lithographed illustration in a rare edition of the Shahnamah, Tabriz 1858-59 [UBL 894 A 9]
Image licensed