Dutch Children Cheering the Canadian Liberators: Four Dutch colouring books from 1945
The liberation of the Netherlands by the Canadians and other allied forces in 1944/45 is one of the brightest pages in Dutch history. Four very rare colouring books of the time keep this memory alive.
For my Canadian friend Erik Kwakkel
Hurray, the Canadians are coming… Really?... Yes, at last! Here they are… We've been waiting for them for so long. Since D-day actually, when they landed in Normandy. Dad told us about them. And now after that terrible hunger winter our liberators are here, in our own town – the brave soldiers and heroes of our time. Their tanks and jeeps bring freedom, their planes and trucks bring food and drink and all kinds of other things we've been missing. Did a Dutch boy or girl ever stay at home when the Canadians were coming? Of course not!
The Netherlands was in ruins. Ground zero. A disfigured world. But there is nothing of the kind in these four colouring books, which probably date from 1945 or even later. Neither publisher nor printer is known, nor is the artist. Apart from the titles, there is no text. The mood at that time was: We aren't looking back, we're looking ahead. A popular Dutch song of those days goes: 'One day, the orchards of the Betuwe will be flowering again, more beautiful and fuller then ever; one day, the fields of Walcheren will have gold-coloured grain – we will rebuild, stone by stone. We will drain the flooded countryside till it's dry – history demands that Holland's glory will never end. The images show a traditional Holland, as it still was to a large extent in 1945: a church, a windmill, a fishing boat under sail, two children in traditional attire. The trees are in full leaf, the fences in full colour, as if there were still planks that had not been burned to keep these children warm during the long, severe winter of 1944/45.
The soldiers are very kind – they smile at us and share their biscuits, chocolates and cigarettes. How delightful! And how sturdy they look on their motorcycles. May I get on too? May I sit in your jeep? Really? May I climb up onto your tank? Even sit across on the gun barrel? Of course you may – but hold on, be careful. May I have a piece of chocolate? Me too, me too! May I have a cigarette? – Aren't you too young for that? – I'm fourteen! Okay, here you are. – I want to be a soldier too!
As a curator of rare books I once had the opportunity to buy these mint copies at the antiquarian book market held in Amsterdam's Spui Square every Friday. The bookseller, Henk Molenaar, told me they came from the descendants of the Dutch author J.H.F. Grönloh (1882-1961), who published under the name of Nescio. That's all I know. I had never seen them before and found them very attractive – a snapshot of a moment in the life of a typical Dutch child of that time. Many young Dutch women did in fact fall in love with Canadian soldiers and followed them home to build a new life overseas. Another song goes: 'Trees heeft een Canadees, o wat is dat meisje in haar sas' (Theresa has a Canadian, o how happy that girl is'). Still, I wasn't sure I should buy the colouring books, because my budget was meant for rare books from the 16th and 17th centuries. At a presentation for the Friends of Leiden University Library, I added the colouring books to the traditional selection of recent acquisitions and asked the guests if they approved of my purchase. It was a great pleasure to receive a positive and appreciative answer from Floor W. Kist, a former diplomat and himself a collector from The Hague – every inch a gentleman – who told me that he had once seen a single volume of the four I had acquired.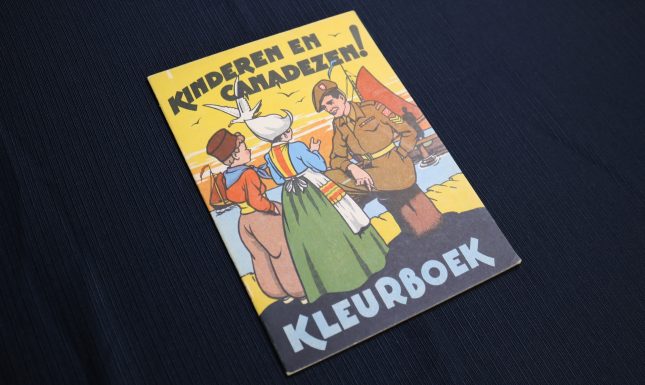 Naturally, they are now on view only in the Special Collections Reading Room. Signatures: 20679 D 129-132. The colouring books are also on display in the online exhibition 'Keuzes in oorlogstijd'.
All colouring books are also available in their entirety in the Leiden University Libraries Digital Collections.
Special thanks to Diane Webb for translating this blog.