Jacob Ernst Marcus - Sint Eustatius-born artist
The artist Jacob Ernst Marcus is one of the very few with Antillean roots in the eighteenth century.
Marcus was born in 1774 on Sint Eustatius, colloquially known as Statia, on his parents' plantation. Sint Eustatius is one of the smaller Antilles islands with an area of only 21 km2. Despite its size, the island had numerous plantations. A map from 1775 lists 76 where enslaved Africans worked. Marcus mentions in a letter from 1815, in which he outlined his life, how as a child he "usually scratched [=scribbled] ships that shot at each other on our fences with chalk with my negro boy." ("[...] met mijn neger jongen op onze schuttingen met krijt krabde [=kraste]. Meestal schepen die op elkander schooten.") The passage was intended to indicate that he discovered his penchant for drawing at an early age. Apparently, he did this in the company of an enslaved boy who worked in the Marcus family household. Sint Eustatius, colonized by the Dutch in the seventeenth century, was an important transit point in the slave trade.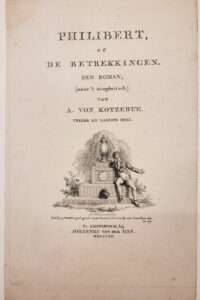 In 1783, the young Jacob Ernst left for the Netherlands with his father. After this journey, we hear nothing more about his Antillean past, although his birth on Sint Eustatius must have been a well-known fact. The edition of his printwork from the first half of the nineteenth century opens with the sentence "Jacob Ernst Marcus was not Dutch." Would his origin have made him an outsider in Dutch society? It's hard to say. What we do know is that he rose quickly in the Dutch art world. First as a student of the well-known artists Steven Goblé and Reinier Vinkeles, later as an independent draftsman and engraver, and founder of the art society, Kunst Zij Ons Doel (Art Be Our Purpose), making a name for himself as an illustrator of books.
Marcus belonged to a generation of artists who sometimes made surprising and refreshing work but were simultaneously quite conventional. His subjects were often taken from everyday life and, however vividly observed, they were rarely striking. The many book illustrations do not show drama but sentiment, in accordance with the texts they illustrated. With Marcus, these sentiments are always charming and elegant, depicted with an eye for detail and a great sense of the beauty of the everyday. Occasionally Marcus rose above that sentiment and created work that still touches us. For example, in a drawing of a young, naked woman, seemingly casually posing against a wall. The drawing was probably created with the Kunst Zij Ons Doel society.
Marcus converted a number of his subtly observed figure studies into prints, which he collected in the so-called Studieprentwerk. This collection of prints, which also included a group of portraits of fellow artists, enjoyed a certain popularity as a drawing example for other artists. In his landscapes and topographical drawings, Marcus also sometimes succeeded in presenting an unadorned image of nature, in which he withdrew from the conventions of the work of many of his colleagues. It is that 'fresh look' that still makes Marcus an attractive artist. In 1972 his work was shown at an exhibition in Curaçao, Aruba and Amsterdam. After more than fifty years, that exhibition deserves a sequel.
As a preview, readers can find a selection of Marcus' works held in the Leiden University Special Collections below.