Mementoes of Hans Christian Andersen
In 1866 Hans Christian Andersen (1805–1875) sent a photograph of himself to the writer Anna Louisa Geertruida Bosboom-Toussaint (1812–1886). On the back he wrote: 'a memento of H.C. Andersen'.
Collection Hans Reeser
Hans Reeser (1916–1993), whose archive is kept at the Leiden University Library, studied not only the life and work of the writer Anna Louisa Geertruida Bosboom-Toussaint (1812–1886), known for novels such as De Graaf van Devonshire (1838) and Majoor Frans (1875), but also the Danish fairytale writer Hans Christian Andersen (1805–1875). Although a connection between the two does not seem obvious, they were in touch several times. Not only did Reeser write about this contact; in his archive he kept, together with a large number of family letters of Bosboom-Toussaint, a business card and photo of Andersen with short messages on the back to the Dutch writer (LTK 2254: 7).
Andersen in The Hague
In 1847, Andersen visited the Netherlands on his way to England. During this visit Toussaint – she was not yet married at the time – was unable to meet him in person. Her future husband, the painter Johannes Bosboom, showed the fairytale writer around the city of The Hague. Toussaint indicated that she was eager to meet him: 'Andersen will also visit this country, and I very much desire to see this stranger' (The Hague, Letterkundig Museum, T 00393 B 1). Andersen had heard much of the young writer and sent her his business card, with a short message on the back that he could not leave the Netherlands without sending her his regards.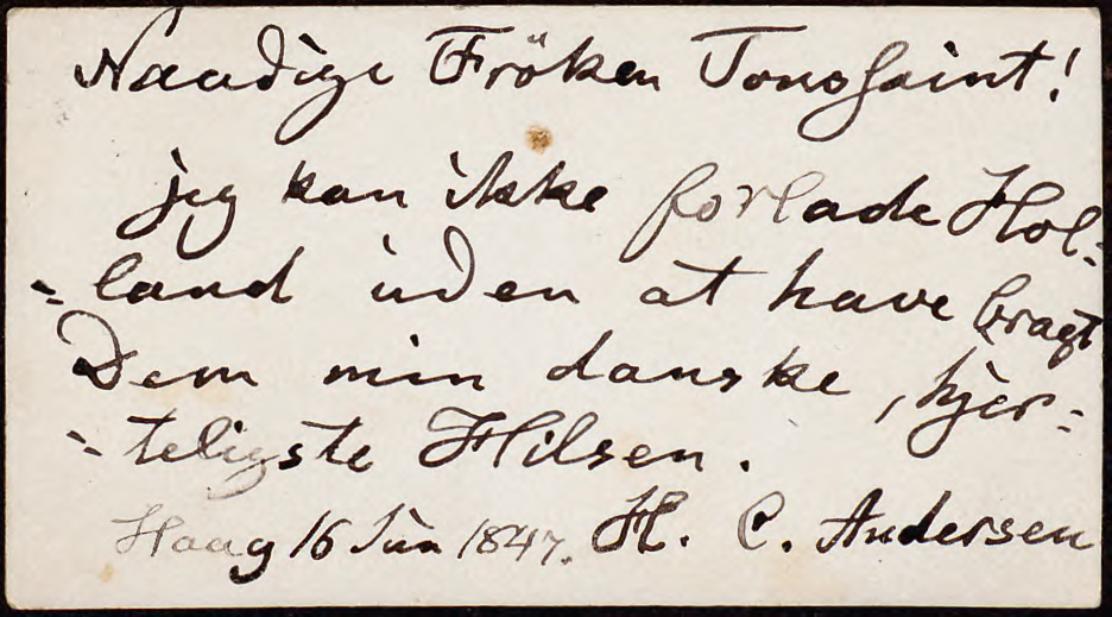 A memento of Andersen
In 1866, Andersen was once again in the Netherlands. This time, after a brief encounter, he sent Bosboom-Toussaint – who was married by now – a picture of himself which he had made in Amsterdam. On the back he wrote: 'a memento of H.C. Andersen'. Bosboom-Toussaint's enthusiasm about the fairytale writer and his work had greatly diminished by then. Before her encounter with Andersen, she wrote to E.J. Potgieter, editor of the literary magazine De Gids: 'Well, A[ndersen] is coming here and will visit us, but I am not really fond of his pieces' (Amsterdam, UB, Ah 81c). Her change of attitude may well have had to do with her years of marriage to Bosboom, or the fact that she knew that Potgieter was not keen on Andersen; in the Netherlands his success had already passed its peak.
Images licensed