Poet Anna van der Aar de Sterke and her all-female literary society 'Die Erg Denkt Vaart Erg In 'T Hart'
Leiden University student Evi Dijcks added a new chapter to Dutch literary history when she discovered the earliest all-female literary society in the Dutch Republic, founded in 1782. The discovery shows: 18th-century women did not wait around for men to include them in their literary activities.
The eighteenth century was a turbulent period in many ways. In the Dutch Republic, this era is well-known for its literary, political, and scientific societies. Unfortunately, it is also well-known for the lack of women in these societies, because they were deemed unable or unfit to participate in the (literary) public sphere. Their only way to take part in societies was through honorary memberships. These memberships were offered to female poets from 1772 onwards, making literary societies the first to accept women as members at all. In Leiden, poet Anna van der Aar de Sterke (1755-1831) was the first woman to accept an honorary membership for the Kunst Wordt Door Arbeid Verkreegen (Art is Obtained Through Labour) society in 1774. She was only nineteen years old at the time. In this same year, Van der Aar became an honorary member of the society Prodesse Canendo in Rotterdam and Kunstliefde Spaart Geen Vlijt (Love of Art Spares no Diligence) in The Hague. By 1778, Van der Aar was also a member of Studium Scientiarum Genitrix in Rotterdam. As an honorary member, however, she was not allowed to participate actively. Female poets in literary societies could only send in poetry by mail and were not allowed to attend society meetings, because fellow male members were under the impression that their presence would distract them from their important intellectual work. Spouses were often only welcome during social events since their distracting nature apparently was appreciated outside "working hours".
Until now, it was assumed that women simply accepted the restricting circumstances in these literary societies. Luckily, the poetry of Anna van der Aar de Sterke paints a completely different picture. The Leiden University Libraries' Special Collections holds two manuscripts in which Van der Aar collected her life's work. These manuscripts were acquired by the University Library in 1961 and 1980 but had not yet been thoroughly researched. It was in these manuscripts that I discovered the very first known all-female Dutch literary society, Die Erg Denkt Vaart Erg In 'T Hart (Who Thinks Badly Invites Bad into the Heart). This society was founded in October 1782, quite likely by Van der Aar herself: her poems show a high degree of commitment to the organization of Die Erg Denkt Vaart Erg In 'T Hart. Despite the restrictions of honorary memberships for women, Anna van der Aar de Sterke could be considered an experienced society poet. It was likely her experience that largely shaped the society Die Erg Denkt Vaart Erg In 'T Hart, whether she was the founder or not.
In total, Van der Aar wrote twenty-six poems for Die Erg Denkt Vaart Erg In 'T Hart. The poetry varies in subject from annual celebrations and new year-speeches to occasional poems about special events in the lives of society members. Poetry, writing, and the society itself were also common subjects of Van der Aar's compositions. Based on the information provided in these occasional poems, I was able to reconstruct an image of the society and its members. Besides Anna van der Aar de Sterke, the society consisted of thirteen members who all were female. The only other member known for her literary activities is Susanna Olympe l'Ange (1766-1785). l'Ange became an honorary member of Kunst Wordt Door Arbeid Verkreegen in Leiden, but her talent was first discovered and acknowledged in Die Erg Denkt Vaart Erg In 'T Hart. Unfortunately, l'Ange died at the very young age of eighteen after the stillbirth of her first child. The grief that Van der Aar expresses in several poems – most of her poems for the society, in fact – suggests that the two women had a very special bond. It seems that Van der Aar acted as a tutor to l'Ange, but also to the other members of Die Erg Denkt Vaart Erg In 'T Hart. Again, it was Van der Aar's writing experience that made her a central figure in the society.
To this day there are no known works by other members of Die Erg Denkt Vaart Erg In 'T Hart. The only thing we know for sure about their literary activities is that they were not part of larger, male literary societies like Anna van der Aar de Sterke and Susanna l'Ange were. It could be that they, as writers, were not as active and accomplished as Van der Aar. Although it could also mean that their work was lost or is yet to be found in another library collection. Because women writers in the eighteenth century (and beyond) had to operate in the background of the literary domain, most of their work would remain unpublished and would mainly circulate in personal circles, like Die Erg Denkt Vaart Erg In 'T Hart. Because of this, it can appear as if women did not participate in literary activities. Hopefully, this new knowledge about women writers in the eighteenth century exemplifies that women certainly did not play a passive role in Dutch literary history. When these women felt restricted by the male-dominated literary societies, they simply set up their own.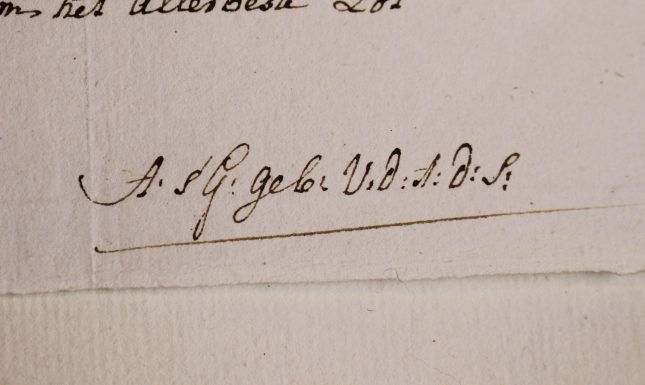 About the author: Evi Dijcks is currently a third-year student of Dutch Language and Culture at Leiden University.