Route Map for an Imperial Inspection Tour to South China, 1784
No second copies of these maps are known to exist.
The emperors of China made regular inspection tours to South China. They travelled by boat along the Imperial Canal from the capital Beijing to various cities in the south. The Qianlong Emperor (reigned 1736–1796) made no fewer than six of these journeys. This map was most likely made for him as a preparation for his fifth tour in 1784.
On the map he travelled from right to left: right is north and left is south. There is also an appendix with a description of previous tours, the last part of which can be seen on the map. In the description it is indicated meticulously where and when he and his predecessors left behind a poem, a calligraphy sample, a stele or a panel with inscription.
On the map, the imperial colour yellow marks the places where the Qianlong Emperor went ashore previously in 1745. From the Xiangfusi Temple in the mountains, at the bottom of the map, he crossed the canal on a pontoon bridge and proceeded along the High Bridge to a tributary canal. There he boarded a second boat which took him to the Travel Palace (Xinggong) in the Tianningsi Temple, situated to the right of the city of Yangzhou. This temple closely resembles the Imperial Palace in Beijing, and there he spent the night during all his inspection tours to the south. Finally, he passed through the city to the Imperial Landing Stage on the canal.
The East Asian Library of the Leiden University Libraries holds two of such maps, each one measuring c. 12 x 208 cm. No second copies of these maps are known to exist.
Post by Koos Kuiper, former curator of Chinese and Japanese manuscripts and printed works at Leiden University Libraries.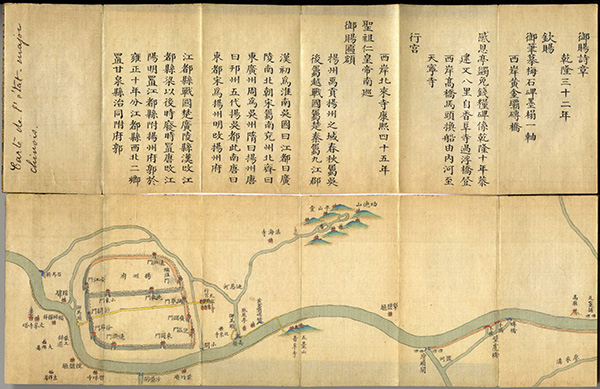 Image licensed