'The human life consists in vigilance'. The network of Johannes de Laet
Professional and personal correspondence as well as Album Amicorum entries reveal who Johannes de Laet was, who his contacts and peers were and how he wanted to be viewed in the learned and public sphere.
Johannes de Laet (1581-1649) was a remarkable figure in the public and academic life in Leiden during the first half of the 17th century. Not only was he one of the founding directors of the Dutch West India Company in 1621 and did he engage in international trade, but he also published several geographical, theological and philological works in the scholarly field. Originally from Antwerp, his family fled to the Northern provinces in 1585, which eventually offered him the opportunity to study at the University of Leiden. There, he was able to start establishing his immense personal network including national and international contacts. During his studies, he was part of a small circle of students receiving private lessons from the already famous Joseph Justus Scaliger. Big names such as Philippus Cluverius, Daniel Heinsius, and Hugo Grotius were amongst his fellow students. During a stay in England after his studies, de Laet was able to further expand his acquaintances. In London, he got married to Jacquemine Vanlore in 1604, who was the daughter of the merchant Pieter Vanlore. Even though his wife died as early as 1606, De Laet would maintain contacts in England for the remainder of his life.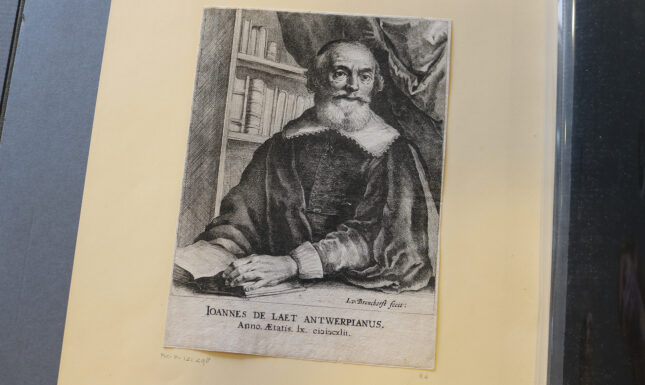 De Laet's vast correspondence with politicians, theologians, and scholars throughout Europe is a testament to his considerable network. He exchanged letters with his former teacher Scaliger, Danish physician Ole Worm, English historian William Camden, and James Ussher, the Archbishop of Armagh – just to name a few of his correspondents. The Special Collections at Leiden University Libraries still include several of de Laet's letters. For example, I had a closer look at a part of his Latin correspondence with the Leiden philologist Claude de Saumaise, with whom he had established a scholarly as well as personal friendship. A choice of letters from 1642 and 1643, for instance, shows what moved both men: They regularly exchanged current news about the political situation in different European countries, especially in England, which found itself at the brink of civil war (1642-1651). There are, however, also instances when de Laet shares experiences that are more private: In 1642, years after his second wife had also passed away, he lost his eldest as well as his second eldest daughter within a few weeks. Even if it would have been inappropriate to lament abundantly, de Laet shows a bit of his grief, though consoles himself in his faith: "If God wants it like that, I have to accept it. I know that he knows best and that I will follow when my time has come."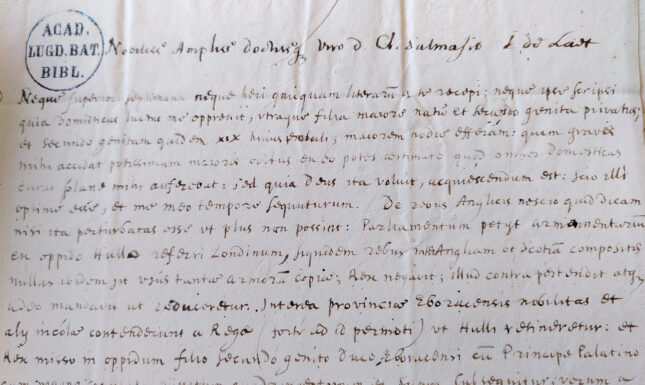 Besides de Laet's correspondence, some contemporary friendship books – or, in Latin: Alba amicorum – are another valuable source for his personal networks. In early modern times, such books, consisting of blank pages, were used to collect entries made by friends and acquaintances. Alba amicorum were especially popular with students and individual entries turned out very differently: It was possible to write down a short greeting, sayings and quotations, occasional poems, or even to create drawings.
Even though unfortunately, De Laet's personal Album was not preserved, we know of several entries made by him for others. The Special Collections in Leiden have four friendship books to which de Laet contributed, namely the ones by the botanist Aelius Everardus Vorstius, the Guelder nobleman Henricus ab Essen, the Leiden student Samuel Baccherus, and a certain Daniel de Marees. While the entries in the Alba of Vorstius (1611) and van Essen (1619) contain some lines of Latin poetry invented by de Laet himself and greetings with a more intimate tone, the other entries are much shorter. A striking common feature is that de Laet almost always adds the words 'Vita mortalium vigilia' (the human life consists in vigilance), serving as a kind of personal motto.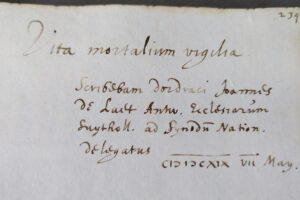 This is not a peculiarity of the friendship books preserved in Leiden: Each of the other entries made by de Laet and preserved in other European libraries includes this motto. De Laet probably knew it from the emblem book (1565) composed by the Dutch physician and historian Hadrianus Junius. The words convey the idea that truly learned people would have to stay awake until late in the night to read, and that leading a commendable life also requires one to be attentive and vigilant.
De Laet's personal 'signature line' in friendship books is interesting in two ways: First, it reveals a new aspect of his personal taste and the way he would have liked to be perceived by others, namely as a learned and vigilant man. Second, for us today as well as for his contemporaries, the recurrent motto creates a certain recognition value in the process of network building. This might have been of special importance on occasions when a large number of people came together and exchanged many entries in Alba: For instance, this was the case when de Laet, in the function of an elder of the church of Leiden, went to the Synod of Dort in 1618/9. He wrote a lot of the known friendship books entries for other participants in Dort, especially during the last phase of the synod in May 1619. Here, we can see that friendship books and individual characteristics of single entries, such as his 'Vita mortalium vigilia', not only play an important role among locals and friends, but also for network building in the official and public sphere of the Dutch Republic.
_____
About the author: Lukas Reddemann is a researcher at the Seminar für Lateinische Philologie des Mittelalters und der Neuzeit at the University of Münster and conducted research in the Leiden Special Collections on a Brill Fellowship in 2021.