World history as river delta: The first Stream of Times-map
A new map genre emerged in the 19th century: the Stream of Times-map, depicting history as a system of dividing and converging rivers. Friedrich Strass published 'Der Strom der Zeiten' in 1803, considered a first of its kind. Dutchman Johan Willem Scheele, however, designed one a century earlier.
Johan Willem Scheele is a somewhat obscure Dutch historian and bookseller. Around 1682 he made the first designs for his map, which probably makes him the first who depicted the course of history in this manner. The first designs of Scheele's history map are lost, but the print of 1708 has survived. Scheele's map shows how the states and empires of his time were connected to the Biblical patriarch Noah and his three sons Japheth, Shem and Ham, and can be considered as a vertical timeline. Scheele corresponded with the famous German historian Gottfried Wilhelm Leibniz (1646-1716). In 1706 he visited Leibniz in Hanover and showed him his design for the history map. Leibniz considered the map 'nicht wenig artig' (not unpleasing) and gave Scheele some advice to improve the concept. Scheele's map, titled Idea Historiæ Universalis, was finally printed in 1708 and engraved by the Amsterdam printmaker Joseph Mulder (1658-1742).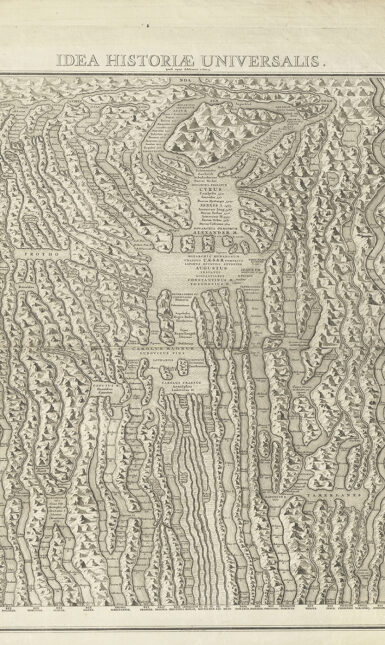 The timeline map was intended for Scheele's book Collectiones miscellaneae observationes varias historico genealogicas exhibentes concinnatae aeneisque tabulis obtutui expositae ab historiam studioso, a rare collection of plates consisting of a series of thirteen historical and genealogical prints engraved by Mulder and published by Isaac Troyel in Amsterdam in 1708. In the end, this engraving was not included, possibly because the image did not fit with the other prints, which were mainly genealogical family tree representations. The copper plates ended up in the possession of the Haarlem publisher Johannes Marshoorn in 1745. He published a Dutch edition in 1745, Verzamelde mengelstoffen, verscheide geschicht en geslagtkundige aanmerkingen aantoonende, in kopere platen verbeeld, and another Latin edition in 1746. In the copy of the Dutch edition in Leiden, the timeline map has been added in the binding in front of the title page, together with an explanatory note in rhyme.
Scheele's early timeline map is exceptionally rare and is therefore hardly known. Even in the limited research that has taken place into such maps, scholars largely seem unaware of Scheele's map. For example, the American historians Daniel Rosenberg and Anthony Grafton do not mention Scheele's map in their impressive work Cartographies of Time. Der Strom der Zeiten by the German professor, historian and chronographer Johann Gottlieb Friedrich Strass (1766-1845) is often incorrectly considered the oldest timeline map. That map was first published in Berlin in 1803 and was subsequently reprinted in other languages. Strass swore that he had not gotten the idea of showing history as flowing streams from anyone else. But according to an article in 1830 by the teacher Derk Buddingh (1800-1874), Strass's maps were so similar to Scheele's map printed nearly one hundred years earlier that he must have been familiar with it. Strass was parading with the feathers of others ('met vreemde veêren'), according to Buddingh, and was acting in bad faith ('ter kwader trouw').
Buddingh himself also built on Scheele's concept as he published his own timeline map of the history of the United Kingdom of the Netherlands in 1830, a lithographic print in three sheets. In the same year, the Belgian revolution broke out which led to the independence of Belgium. Apart from the Dutch political history, Buddingh added a separate stream in which important inventions, discoveries and cultural improvements were listed. An aspect that Strass already added to Scheeles concept. The stream of 'famous men, discoveries etc.' included several mapmakers from the Low Countries and their products: the terrestrial globes by Arnold and Jacob van Langren (1580-1581), Gerard Mercator (1590), Abraham Ortelius (1598) and the nautical charts of Petrus Plancius (1600). Worth mentioning is that Buddingh also honoured Scheele by adding his Stream of Times-map (1682-1690) to the listing of important Dutch inventions, to do right to Scheele who created the concept.
Scheele's Idea Historiæ Universalis is one of the maps in the recently published book Maps That Made History. The map is currently displayed in the exhibition Maps: Navigating & Manipulating in the National Museum of Ethnology (Museum Volkenkunde) in Leiden.
Detailed digital images:
Further reading:
Volker Bauer, 'Denkbild. Stamm, Land, Fluss. Schele, Leibniz und die Kartographie der Geschichte'. Zeitschrift für Ideengeschichte 10 (2016), 3: 69-82.
Daniel Rosenberg & Anthony Grafton, Cartographies of Time. A History of the Timeline. New York: Princeton Architectural Press, 2010.
Martijn Storms, '1708 – 'Streams through time. The earliest 'cartography' of world history.' In: Martijn Storms et al. (ed.), Maps That Made History. 1000 Years of World History in 100 Old Maps. Tielt: Lannoo, 2022, p. 122-125.